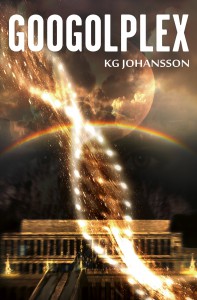 If you could have anything but the one thing you really wanted, what would you do?
Jack is part of a group of colonists traveling to the distant planet Shylock to build themselves a new home. But Jack has trouble letting go of his past and the world he left behind. He becomes obsessed with what could have been, and with the help of multis – mysterious beings from parallel universes – he begins his search for truth. However, in a world where even love seems impossible to define, what can he find?
Buy
Paperback: Amazon.com |  Amazon.co.uk | Barnes & Noble | Book Depository | Createspace | Wordery
E-book: Amazon.com / Kindle | Barnes & Noble / NOOK | Google Play Books | Itunes | Kobo | Smashwords
What people are saying about Googolplex
"Full of genetics, clever allusions, and above all an interesting examination of human nature, Googolplex tugs at the imagination long past its final sentence."
World Literature Today
"… an impressively original and deftly crafted science fiction novel that will hold the reader's fully entertained and rapt attention from beginning to end"
Small Press Bookwatch
"I emerged from the book with a soft and sated 'wow.' It is a thing of intellectual beauty. Not easy to slide into, but once in, once 'clicked,' it is a deeply satisfying and fascinating read. "
The Future Fire
"… fascinatingly intense"
The British Fantasy Society
"If you want to read something a bit different and enjoy well written science fiction, please read KG Johansson's Googolplex."
Risingshadow.net
"… creative, innovative and has a deep human component that relays a great message about the humans of now by telling us about humans of the future"
Rob Slaven, The Tattered Thread

"Googolplex is the breed of science fiction that uses science to explore our humanity. It is not always an easy read, but it is incredibly rewarding and a good catalyst for self-examination and philosophical reflection. … I highly encourage you to grab a copy, sit back, and enjoy the ride."
GeekDad
"… a great sci-fi read"
The Reading Bud
"This book is well-written, and an excellent, well-crafted story."
Rainy Day Reads
"… reads like a classic 1960s New Wave SF tale from the likes of Joanna Russ and Ursula K. Le Guin"
John Kwok, Amazon.com
Links to reviews
The British Fantasy Society | Every Free Chance Books | The Future Fire | GeekDad | Rainy Day Reads | The Reading Bud | Risingshadow.net | SFcrowsnest | Small Press Bookwatch | Strange Horizons | World Literature Today
KG Johansson
Swedish author KG Johansson was born in the fifties, grew up with rock music and became a musician. Today he plays and writes full-time – science fiction and young adult novels, film scripts, opera libretti and music books – and is one of the foremost authors of speculative fiction in Scandinavia.
Book details
Title: Googolplex
© KG Johansson
Cover illustration: Andreas Raninger
Publisher: Affront Publishing
Genre: Science fiction, speculative fiction
Paperback: 206 pages, 5.25″ x 8″
Release date: September 16, 2015
Suggested retail price: 12.90 USD (e-book 3.90 USD)
ISBN: 978-91-87585-35-7
ISBN (e-book): 978-91-87585-36-4
ISBN (Swedish print edition): 978-91-87585-38-8